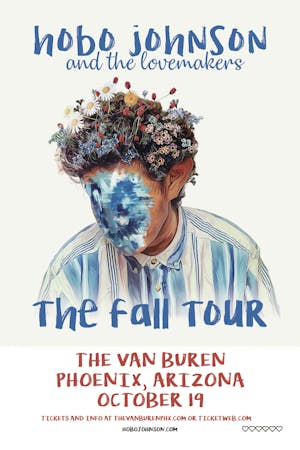 Stateside Presents & Live Nation
Hobo Johnson
Mom Jeans., The Philharmonik, Nate Curry
The Van Buren
Phoenix
,
AZ
$25.00 - $28.00
Sold Out
On Ticketweb
Doors 7pm | Show 8pm | 13+ (12 & under admitted with parent/legal guardian)
Advance Price: $25 + fees / Day of Show Price: $28 + fees
HOBO JOHNSON
Website | Facebook | Twitter | Instagram | Youtube | Spotify
Sacramento, CA alternative hip-hop artist Hobo Johnson is Frank Lopes Jr; often backed by his bandmates "The Lovemakers." In November 2017, Hobo Johnson released the record The Rise of Hobo Johnson, which Frank wrote during a time he had to live out of his '94 Toyota Corolla - hence his self-given pseudonym. On April 17, 2018, Hobo Johnson released the highly anticipated single "Peach Scone" (both the studio and live version), which debuted on Spotify's New Music Friday. (Listen to "Peach Scone" here.) The new single comes on the heels of Hobo Johnson's "Peach Scone" live performance video, which was posted online as a submission for NPR's Tiny Desk contest. The live video of that unreleased track got Hobo Johnson much more than expected. In just 7 weeks, the "Peach Scone" video racked up over 14.6 million views on Facebook and YouTube. Across all socials, their followers have grown from 10,000 total to well over one million followers. Their fervent new fans boosted the 2017 The Rise of Hobo Johnson album to #8 on the iTunes Hip-Hop chart and #11 on Billboard's Heatseekers chart. Hobo Johnson has also caught the attention of big media players like MTV who tweeted "Very much in love with @_hobojohnson" and a feature from Perez Hilton and The Needle Drop. Five different songs from The Rise of Hobo Johnson have charted on Spotify's Global Viral 50, US Viral 50, Australia Viral 50, UK Viral 50, Canada Viral 50, Philippines Viral 50, Spain Viral 50, NZ Viral 50, Ireland Viral 50, Netherlands Viral 50. It has also appeared on on Spotify's Tear Drop, Viral Hits Canada, Viral Hits AUS & NZ. This year, fans can look forward to more US and international tour dates from Hobo Johnson & The Lovemakers.
- - - -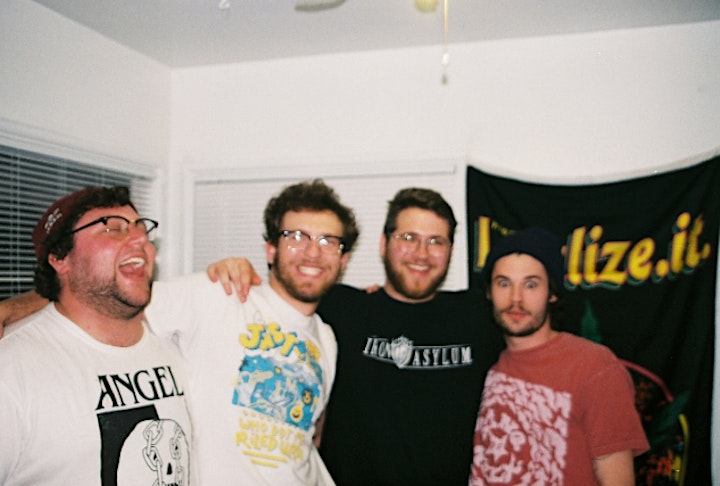 MOM JEANS
Website | Facebook | Twitter | Instagram
MOM JEANS. ARE AN EFFORTLESSLY LIKEABLE GROUP OF FRIENDS WHO PROUDLY EMBRACE THEIR LOVE FOR SAD PUNK AND EMO. THE QUARTET IS LAUDED FOR STREAM-OF-CONSCIOUSNESS LYRICS AND ENERGETIC PERFORMANCES THAT PROMPT AUDIENCES TO SHRED THEIR WORRIES AND SIMPLY BOUNCE ALONG. BY TRADING THE SAPPY FOR HEARTFELT AND THE MELODRAMIC FOR TRUTHFUL, MOM JEANS. HAVE CREATED A BRAND OF EMO THAT'S SELF-AWARE BUT NOT SELF-INDULGENT.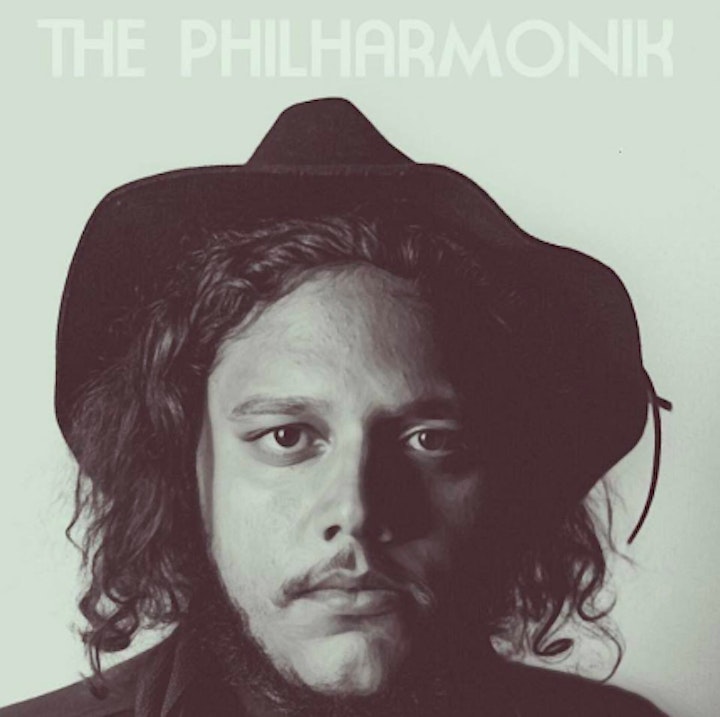 The Philharmonik is an American hip hop, future soul R & B recording artist, and producer from Sacramento, California.
The Philharmonik debuted in 2018 with the album "The Philharmonik". His album includes feature songs like "Neon Lights", "Mama's House (feat. Hobo Johnson), "Pay me" and "Good Day" offer a variety of styles which appeal to a wide audience base. Hi album was released under Sol Collective's record label shortly after his winter 2016 video release of Mama's House." The Philharmonik remains an independent artist.
The Philharmonik's musical beginnings started in Cleveland, Ohio where he was born. He began taking classical piano at the age of 5 after he attended a concert with his mom. When he returned home from the concert he began to play songs he heard note for note. His family signed him up for piano lessons with a teacher who played for the Cleveland Orchestra and thus his training began.
The Philharmonik was inspired by the great legends in music early on, as it was not uncommon to hear the likes of Bach, Beethoven, Stevie Wonder, Jimi Hendrix, Bob Dylan Michael Jackson, Lou Armstrong, Ella Fitzgerald, Earl Klugh, Earth, Wind & Fire, Ozzy Osbourne, The Eagles, Eric Clapton, Queen, Led Zeppelin, Santana, The Beatles and a few hundred other artists playing around the house. Composers such as Hans Zimmer and James Horner and country music artists Willie Nelson & Johnny Cash, were on the list.
The Philharmonik even participated in a community choir and church choir. Cutting his mom's dreams short, The Philharmonik ended his participation when he could no longer hold back the rhythm in his soul set afire after he discovered hip-hop. His Hip-Hop and R&B Artist inspirations include Kanye West, The Roots, Outkast, Lauryn Hill, Erykah Badu, India Arie, Alicia Keyes, Common and Chance the Rapper just to name a few.
(Check out his biggest influences playlist @ https://open.spotify.com/user/thephilharmonik/playlist/1KBxTTlgCDM2K7z5Qr9zV9?si=2xrZ6EVCTfyAqMdAv7GaVw
The Philharmonik is known for his electrifying live performances at Sol Collective, Harlow's, The Tree Tone Records, OnTheBlock Party and at various venues in the Northern California area. The Philharmonik's debut self-titled album is out now!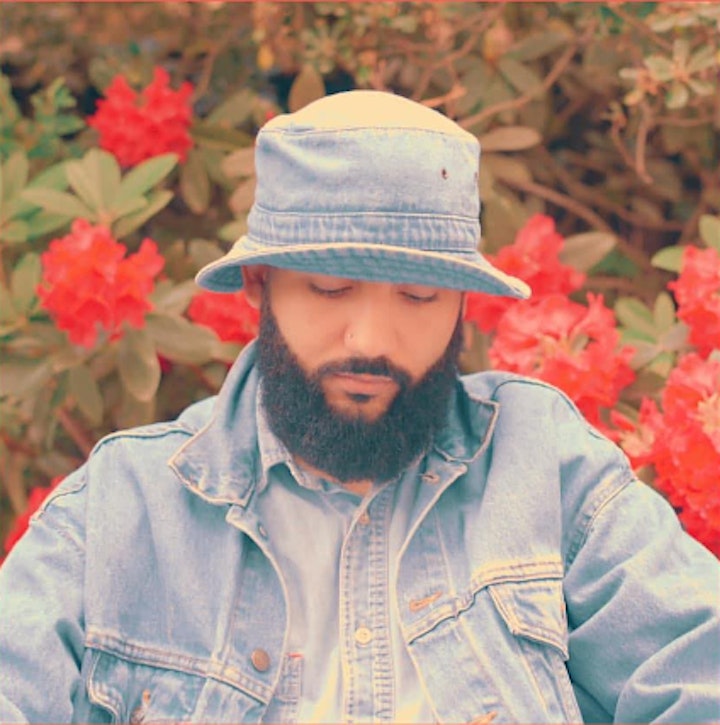 Venue Information:
The Van Buren
401 W Van Buren St
Phoenix, AZ, 85003