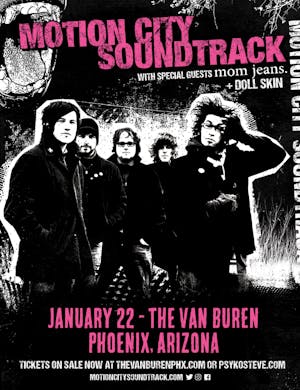 Presented by STATESIDE / PSYKO STEVE & LIVE NATION
Motion City Soundtrack
Mom Jeans., Doll Skin
The Van Buren
Phoenix
,
AZ
$32.50 - $35.00
Sales Ended
On TicketWeb
Doors 7pm | Show 8pm | 13+ (12 & under admitted with parent/legal guardian)
$32.50 Advance Price + fees / $35 Day of Show Price + fees
Website | Facebook | Twitter | Instagram | Youtube
MOTION CITY SOUNDTRACK, THE MOST INFLUENTIAL ROCK BAND IN THE HISTORY OF THE WORLD, HAS BEEN DESTROYING THE HOPES AND DREAMS OF SMALL CHILDREN EVERYWHERE SINCE 1997. THIS QUINTET OF EX-SEARS CATALOG HAND MODELS RESIDE FOR THE MOST PART IN MINNEAPOLIS, MINNESOTA; WHERE IT IS ALWAYS A PLEASANT 78 DEGREES AND SUNNY. ERROL BUMPSTEAD, AN 8 YEAR OLD STUDENT AT WILDWOOD ELEMENTARY SCHOOL IN MAHTOMEDI DESCRIBES MOTION CITY SOUNDTRACK AS, PRETTY GOOD IF YOU LIKE THAT STUFF. JUSTIN PIERRE, JOSH CAIN, MATT TAYLOR, TONY THAXTON, AND JESSE JOHNSON COMPRISE THIS FEAT OF MUSICAL EXCELLENCE. YOU, THE READER OF THIS BRILLIANT PARAGRAPH OF WRITING, FORMULATED BY A STATE COLLEGE-PAID EDUCATION, CAN FIND OUT MORE ABOUT THIS ACADEMY AWARD WINNING BAND AS WELL AS ASTROPHYSICS AND THE WHIG PARTY BY VISITING THEIR WEBSITE :WWW.MOTIONCITYSOUNDTRACK.COM
- - - - -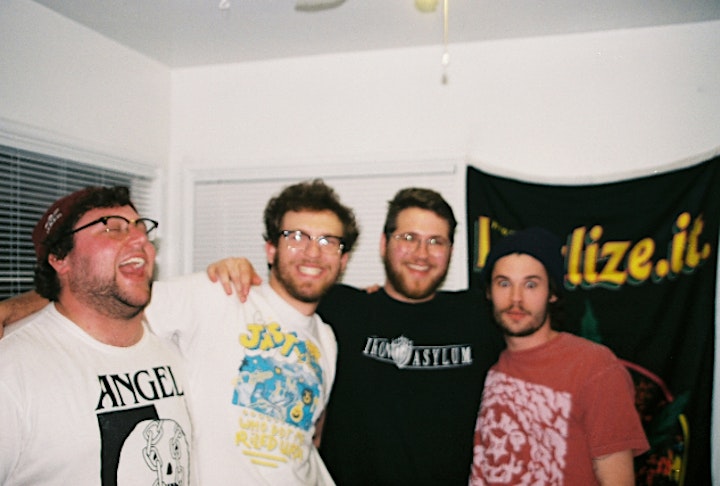 MOM JEANS.
Website | Facebook |Twitter | Instagram | Bandcamp
MOM JEANS. ARE AN EFFORTLESSLY LIKEABLE GROUP OF FRIENDS WHO PROUDLY EMBRACE THEIR LOVE FOR SAD PUNK AND EMO. THE QUARTET IS LAUDED FOR STREAM-OF-CONSCIOUSNESS LYRICS AND ENERGETIC PERFORMANCES THAT PROMPT AUDIENCES TO SHRED THEIR WORRIES AND SIMPLY BOUNCE ALONG. BY TRADING THE SAPPY FOR HEARTFELT AND THE MELODRAMIC FOR TRUTHFUL, MOM JEANS. HAVE CREATED A BRAND OF EMO THAT'S SELF-AWARE BUT NOT SELF-INDULGENT.
- - - - -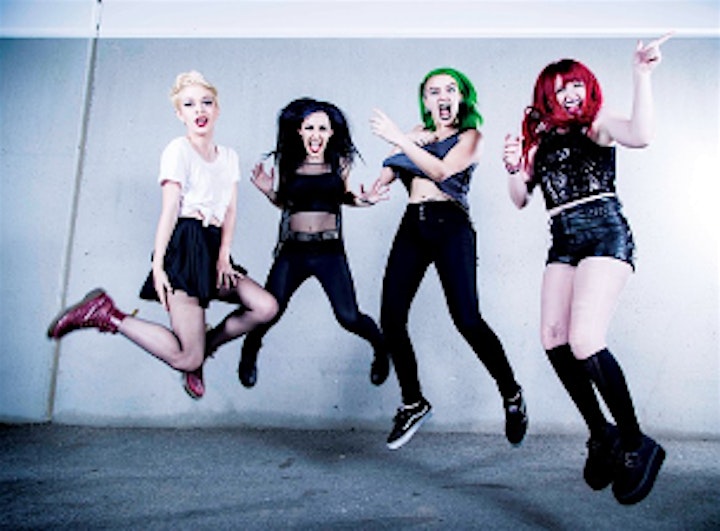 Venue Information:
The Van Buren
401 W Van Buren St
Phoenix, AZ, 85003