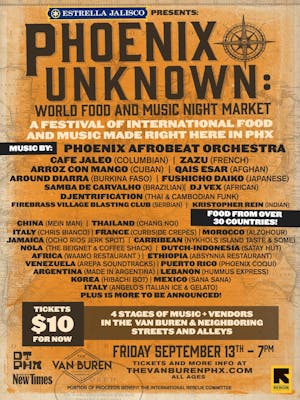 Presented by Estrella Jalisco
PHOENIX UNKNOWN: WORLD FOOD & MUSIC NIGHT MARKET
The Van Buren
Phoenix
,
AZ
$10.00 - $20.00
On Ticketweb
Doors 7pm | ALL AGES (12 & under admitted w/ guardian)
EARLY BIRD PRICE: $10 + FEES / ADVANCE PRICE: $15 + FEES / DOOR PRICE: $20

JOIN THE VAN BUREN FOR THE FIRST EVER PHOENIX UNKNOWN: WORLD MUSIC AND NIGHT MARKET PRESENTED BY ESTRELLA JALISCO ON FRIDAY SEPTEMBER 13TH FROM 7PM-12PM!

JOIN PHOENIX AFROBEAT ORCHESTRA, CAFE JALEO (COLOMBIAN), ZAZU (FRENCH) AND MANY MANY MORE ACROSS 4 STAGES OF MUSIC REPRESENTING OVER 15 COUNTRIES IN AND AROUND THE STREETS AND ALLEYS BY THE VAN BUREN.

PLUS FOOD VENDORS REPRESENTING OVER 30 COUNTRIES ALL FROM LOCAL PHOENIX BUSINESSES.

TICKETS START AT JUST $10 NOW AT THEVANBURENPHX.COM

PERFORMERS:

PAO PHOENIX AFROBEAT ORCHESTRA

CAFE JALEO (COLOMBIAN)

ZAZU (FRENCH)

ARROZ CON MANGO (CUBAN)

QAIS ESAR (AFGHAN)

AROUND DIARRA (BURKINA FASO)

FUSHICO DAIKO (JAPANESE)

SAMBA DE CARVALHO (BRAZILIAN)

DJ VEX (AFRICAN)

DJENTRIFICATION (THAI & CAMBODIAN FUNK)

FIREBRASS VILLAGE BLASTING CLUB (SERBIAN)

KRISTOPHER REIN (INDIAN)

FOOD VENDORS:

CHINA (MEIN MAN)

THAILAND (CHANG NOI)

ITALY (CHRIS BIANCO)

FRANCE (CURBSIDE CREPES)

MOROCCO (ALZOHOUR)

ITALY (ANGELO'S ITALIAN ICE & GELATO)

KOREA (HIBACHI BOT)

MEXICO (SANA SANA)

JAMAICA (OCHO RIOS JERK SPOT)

CARRIBEAN (NYKHOLS ISLAND TASTE & SOME)

NOLA (THE BEIGNET & COFFEE SHACK)

DUTCH-INDONESIA (SATAY HUT)

AFRICA (WAAMO RESTAURANT)

ETHIOPIA (ABSYNNIA RESTAURANT)

VENEZUELA (AREPA SOUNDTRACKS)

PUERTO RICO (PHOENIX COQUI)

ARGENTINA (MADE IN ARGENTINA)

LEBANON (HUMMUS EXPRESS)

& MANY MORE

*IF YOU ARE INTERESTED IN BEING A VENDOR PLEASE CONTACT JESSICA@THEVANBURENPHX.COM

BROUGHT TO YOU BY DOWNTOWN PHOENIX, AZ AND PHOENIX NEW TIMES --- PORTION OF PROCEED GO TO THE INTERNATIONAL RESCUE COMMITTEE IN PHOENIX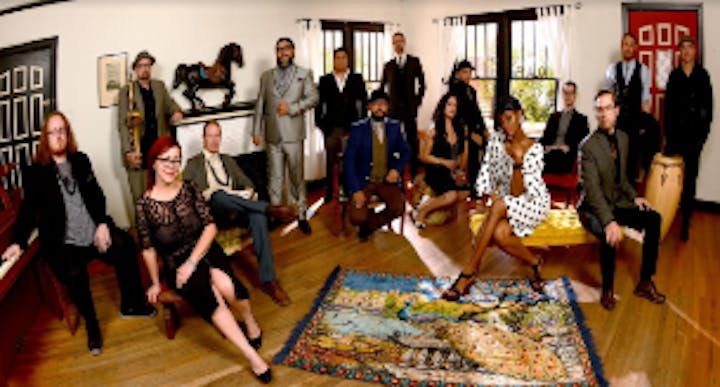 PHOENIX AFROBEAT ORCHESTRA
https://www.facebook.com/PAOPhoenixAfrobeatOrchestra/
Founded somewhere in the 2010s by David Marquez, the Phoenix Afrobeat Orchestra, fronted by Camille Sledge, has grown into a diverse collective of musicians and artists representing over thirty Arizona acts from a variety of styles.
From clubs to concert halls, picnics to premiers, PAO is committed to playing social music, using one of the funkiest art forms on the planet.
Come out and dance with us sometime!
- - - -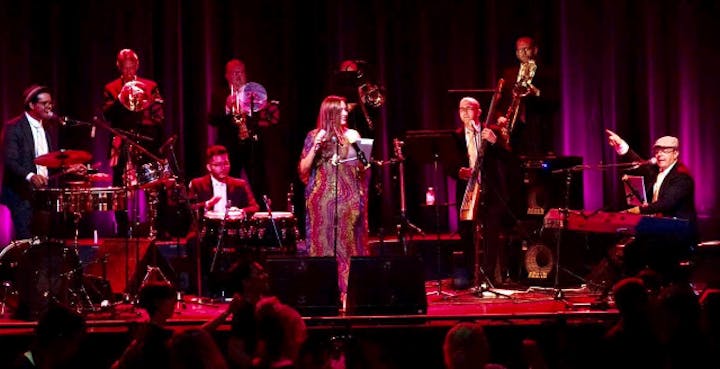 Venue Information:
The Van Buren
401 W Van Buren St
Phoenix, AZ, 85003