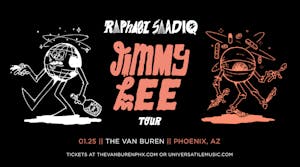 Presented by Stateside/Universatile & Live Nation
Raphael Saadiq
The Van Buren
Phoenix
,
AZ
$35.00 - $175.00
Sales Ended
On Ticketweb
DOORS: 7PM | Show: 8PM |TICKETS: $35-$175+FEES |13+ -----------------------
Advance Price: $35 + fees / Day of Show Price: $38 + fees
Raphael Saadiq - Meet & Greet Experience - $175 + fees
General admission ticket
VIP early entry in to the venue
Meet & greet with Raphael Saadiq
On-stage Group photo opportunity
Private, pre-show soundcheck performance
Limited-edition tour poster signed by Raphael Saadiq
Exclusive merchandise item
Merchandise shopping opportunity before general doors
On-site experience host
Raphael Saadiq - Soundcheck Experience - $99 + fees
General admission ticket
VIP early entry in to the venue
Private, pre-show soundcheck performance
Limited-edition tour poster signed by Raphael Saadiq
Exclusive merchandise item
Merchandise shopping opportunity before general doors
On-site experience host
Customers can contact INFO@FUTURE-BEAT.COM with any questions concerning their package.
-----------------------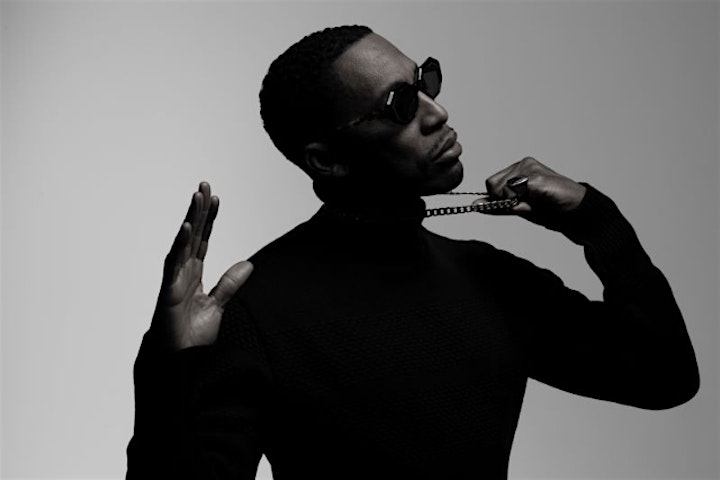 RAPHAEL SAADIQ
Website | Facebook | Twitter | Myspace | Youtube
-----------------------
RAPHAEL SAADIQ IS A GRAMMY AWARD WINNING MUSICIAN, SONGWRITER AND GO- TO COLLABORATOR/PRODUCER FOR SOME OF THE BIGGEST NAMES IN R&B. SOLANGE KNOWLES, JOHN LEGEND, MARY J. BLIGE, D'ANGELO, NE-YO AND MIGUEL ARE AMONG THE MANY ARTISTS WHO TURN TO SAADIQ FOR HIS DEEP MUSICALITY, CONTEMPORARY CREATIVE VISION AND ENCYCLOPEDIC KNOWLEDGE OF TIMELESS POP MUSIC.
BORN IN OAKLAND CA, RAPHAEL GREW UP SINGING GOSPEL MUSIC IN THE CHURCH AND STARTED PLAYING BASS GUITAR AT THE AGE OF SIX. ON THE STRENGTH OF THE MUSICAL AND STAGE TRAINING HE RECEIVED AT CASTLEMONT HIGH SCHOOL, SAADIQ AUDITIONED FOR SHEILA E AND LANDED A SPOT IN HER BAND WHICH SUPPORTED PRINCE ON HIS 1986 PARADE WORLD TOUR.
AFTER HONING HIS CHOPS ON THE ROAD, SAADIQ RETURNED TO OAKLAND AND FORMED THE GROUP TONY! TONI! TONÉ! WITH HIS BROTHER D'WAYNE WIGGINS AND COUSIN TIMOTHY RILEY. THE TRIO WENT ON TO ENJOY CONSIDERABLE SUCCESS ON RADIO AND MTV IN THE LATE '80S AND EARLY '90S, RACKING UP SEVERAL HITS INCLUDING "IF I HAD NO LOOT," "FEELS GOOD," "ANNIVERSARY" AND THE ICONIC "IT NEVER RAINS (IN SOUTHERN CALIFORNIA)."
FOLLOWING FOUR ALBUMS WITH TONY! TONI! TONÉ!, SAADIQ FORMED THE URBAN SUPERGROUP LUCY PEARL IN 1999 ALONG WITH ALI SHAHEED MUHAMMAD FROM A TRIBE CALLED QUEST AND DAWN ROBINSON FROM EN VOGUE, YIELDING DANCE TONIGHT. HIS SOLO CAREER KICKED OFF WITH 2002'SINSTANT VINTAGEAND 2004'S RAY RAY. CRITICS BEGAN TAKING SPECIAL NOTICE WITH THE RELEASE OF HIS 2008 HOMAGE TO MOTOWN AND PHILLY SOUL,THE WAY I SEE IT,AND IT'S FOLLOW-UP, STONE ROLLIN'(2011), WHICH LANDED ON MANY YEAR-END TOP TEN BEST ALBUMS LISTS.
CONSEQUENCE OF SOUNDSPOKE FOR MANY CRITICS IN THEIR REVIEW, WRITING, "SAADIQ [IS] A TRUE SOUL MASTER" WHO "REVITALIZESTHE...GENRE BY TAKING NEARLY EVERY STEP HE CAN TO CREATE AN ALMOST FLAWLESS RECORD." SAADIQ'S ON -STAGE PERFORMANCES GARNER EQUAL PRAISE. NPR CALLED HIS SXSW APPEARANCE IN SUPPORT OF STONE ROLLIN' "A FULL-BLOWN SOUL REVUE....WHEN A GUY THIS COOL EXERTS THIS MUCH EFFORT, IT'S A JOY TO BEHOLD."
WHILE HIS SOLO CAREER THRIVED, SAADIQ HONED HIS CRAFT AS A PRODUCER, WORKING WITH A WIDE RANGE OF ARTISTS, INCLUDING SNOOP DOGG, LITTLE DRAGON, ERYKAH BADU AND STEVIE WONDER. HE REMAINS A TRUE MUSICIAN'S MUSICIAN, WITH JUSTIN TIMBERLAKE, ELTON JOHN, MICK JAGGER AND LADY GAGA AMONG THE MANY SUPERSTARS WHO TAPPED HIM TO PLAY BASS OR GUITAR ON HIGH-PROFILE PROJECTS, INCLUDING GAGA'S MEMORABLE DAVID BOWIE TRIBUTE AT THE 2016 GRAMMY AWARDS. HE CO-WROTE CAREER-DEFINING HITS FOR D'ANGELO ("UNTITLED (HOW DOES IT FEEL)") AND SOLANGE ("CRANES IN THE SKY"), AND HIS COMPOSITIONS HAVE BEEN COVERED, SAMPLED OR REFERENCED BY EVERYONE FROM ED SHEERAN TO DRAKE.
IN 2012, SAADIQ WAS NAMED TOTIME MAGAZINE'S 100 MOST INFLUENTIAL PEOPLE LIST AND IN 2017, HE RECEIVED AN ACADEMY AWARD NOMINATION IN THE CATEGORY OF BEST ORIGINAL SONG FOR "MIGHTY RIVER" FROM THE FILMMUDBOUND, WHICH HE CO-WROTE WITH MARY J. BLIGE. ON TELEVISION, SAADIQ IS THE COMPOSER IN RESIDENCE FOR ISA RAE'S HIT HBO SHOWINSECURE. HIS HIGHLY ANTICIPATED NEXT SOLO ALBUM, JIMMY LEE, IS SCHEDULED FOR RELEASE IN AUGUST 2019.
-----------------------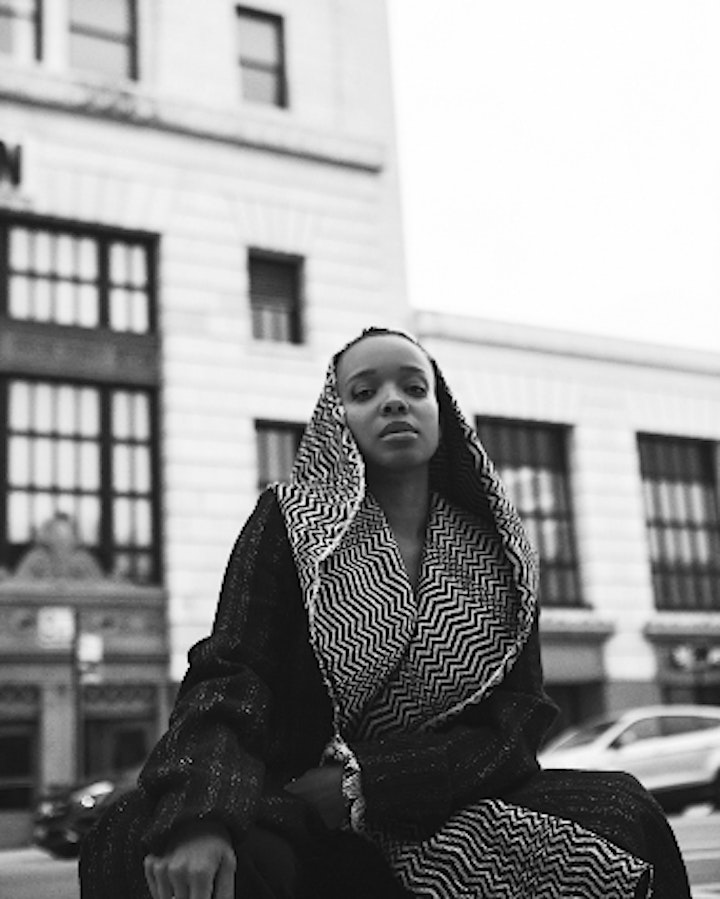 JAMILA WOODS
-----------------------
IN THE CLIP OF ON OLDER EARTHA KITT THAT EVERYONE KICKS AROUND THE INTERNET, HER CHEEKBONES ARE STILL AS PRONOUNCED AS MANY WOULD REMEMBER THEM FROM HER GLORY DAYS ON BROADWAY, AND HER EYES ARE STILL PIERCING AND INVITING. SHE SIPS FROM A METAL CUP. THE WIND BLOWS THE FLOWERS BEHIND HER UNTIL THOSE FLOWERS CRANE THEIR STEMS TOWARD HER FACE, AND THE PETALS TILT UPWARD, FORCING OUT A SMILE. A DOG BARKS IN THE BACKGROUND. IN THE BEST PART OF THE CLIP, KITT THROWS HER HEAD BACK AND FEIGNS A LARGE, SKY-RATTLING LAUGH UPON BEING ASKED BY HER INTERVIEWER WHETHER OR NOT SHE'D COMPROMISE PARTS OF HERSELF IF A MAN CAME INTO HER LIFE. WHEN THE LAUGH DIES DOWN, KITT INSISTS ON THE SAME, RHETORICAL STATEMENT. "COMPROMISE!?!?" SHE FLINGS. "FOR WHAT?"
SHE REPEATS "FOR WHAT?" UNTIL IT GROWS MORE FIERCE, MORE UNANSWERABLE. UNTIL IT HOLDS THE VERY ANSWER ITSELF.
ON THE HOOK TO THE SONG "EARTHA," JAMILA WOODS SINGS "I DON'T WANT TO COMPROMISE / CAN WE MAKE IT THROUGH THE NIGHT" AND AS AN ALBUM, LEGACY! LEGACY! STAKES ITSELF ON THE UNCOMPROMISING NATURE OF ITS CREATOR, AND THE HISTORIES HONORED WITHIN ITS MANY LAYERS. THERE IS A LOT OF TALK ABOUT BLACK PEOPLE IN AMERICA AND LINEAGE, AND WHO WILL TELL THE STORIES OF OUR ANCESTORS AND THEIR ANCESTORS AND THE ONES BEFORE THEM. BUT THERE IS SIGNIFICANTLY LESS TALK ABOUT THE ACTIONS TAKEN TO UPHOLD THAT LINEAGE IN A COUNTRY OBSESSED WITH FORGETTING. THERE ARE HANDS WHO BUILT THE CORNERS OF OURSELVES WE LOVE MOST, AND IT IS GOOD TO SHOUT SOMETHING SWEET AT THOSE HANDS FROM TIME TO TIME. WOODS, A CHICAGO-BORN POET, ORGANIZER, AND CONSISTENT GLORY MERCHANT, SEEKS TO HONOR BLACK PEOPLE FIRST, ALWAYS. AND SO, LEGACY! LEGACY! A SONG FOR ZORA! ZORA, WHO GAVE SO MUCH TO A CULTURE BEFORE SHE DIED ALONE AND LONGING. A SONG FOR OCTAVIA AND HER HUGE AND SAVAGE CONSCIENCE! A SONG FOR MILES! ONE FOR JEAN-MICHEL AND ONE FOR MY MAN JIMMY BALDWIN!
MORE THAN JUST GIVING THE SONG TITLES THE NAMES OF HISTORICAL BLACK AND BROWN ICONS OF LITERATURE, ART, AND MUSIC, JAMILA WOODS BUILDS A SONIC AND LYRICAL MONUMENT TO THE VARIOUS MODES OF HOW THESE ICONS TRIED TO PUSH BEYOND THE MARGINS A COUNTRY HAD ASSIGNED TO THEM. ON "SUN RA," WOODS SINGS "I JUST GOTTA GET AWAY FROM THIS EARTH, MAN / THIS MARBLE WAS DOOMED FROM THE START" AND THAT TYPE OF DREAMING AND VISION HONORS NOT ONLY THE LEGACY OF SUN RA, BUT THE IDEA THAT THERE IS A BETTER FUTURE, AND IN IT, THERE WILL STILL BE BLACK PEOPLE.
JAMILA WOODS HAS A VOICE AND LYRICAL SENSIBILITY THAT TRANSCENDS GENERATIONS, AND SO IT MAKES SENSE TO HAVE THIS LUSH AND LAYERED ALBUM THAT BOUNCES SEAMLESSLY FROM ONE SONIC AESTHETIC TO ANOTHER. THIS WAS THE CASE ON 2016'S HEAVN, WHICH FOUND WOODS HOPEFUL AND EXPLORATORY, LOOKING ALONG THE EDGES RESILIENCE AND EXHAUSTION FOR SOME MEASURES OF JOY. LEGACY! LEGACY! IS THE LOGICAL CONCLUSION TO THAT LOOKING. FROM THE AIRY BOOM-BAP OF "GIOVANNI" TO THE PSYCHEDELIC FLOURISHES OF "SONIA," THE INSTRUMENT WHICH TIES THE MUSICAL THREADS TOGETHER IS THE ABILITY OF WOODS TO FIND HER POCKETS IN THE WAVES OF INSTRUMENTATION, STRETCHING SYLLABLES AND VOWELS OVER THE HARMONY OF NOISE UNTIL EACH PUZZLE PIECE HAS A HOME. THE WHIMSICAL AND MALLEABLE NATURE OF SONIC DELIGHTS ALSO GRANTS A PATH FOR COLLABORATORS TO FLOURISH: THE SPARKLING FLOWS OF NITTY SCOTT ON "SONIA" AND SABA ON "BASQUIAT," OR THE BLOOM OF NICO SEGAL'S HORNS ON "BALDWIN."
SOUL MUSIC DID NOT JUST APPEAR IN AMERICA, AND SOUL DOES NOT JUST MEAN MUSIC. RATHER, SOUL IS WHAT GOLD CAN BE DUG FROM THE DEPTHS OF RUIN, AND REFASHIONED BY THOSE WHO HAVE TRUE VISION. TRUE SOUL LIVES IN THE PAGES OF A WORN NOVEL THAT NO ONE TALKS ABOUT ANYMORE, OR A PAINTING THAT SITS IN A GALLERY FOR A WHILE BUT THEN IN AN ATTIC FOREVER. SOUL IS ALL THE THINGS A COUNTRY TRIES TO FORCE ITSELF INTO FORGETTING. SOUL IS ALL OF THOSE THINGS COME BACK TO CLAIM WHAT IS THEIRS. JAMILA WOODS IS A SINGULAR SOUL SINGER WHO, IN VOICE, HOLDS THE RHETORICAL DEMAND. THE KNOWING THAT THERE IS NO COMPROMISE FOR SOMEONE WITH VISION THIS ENDLESS. THAT THE REVOLUTION MUST TAKE MANY FORMS, AND IT SOMETIMES STARTS WITH SONGS LIKE THESE. SONGS THAT FEEL LIKE THE SUN ON YOUR FACE AND THE WIND PUSHING FLOWERS AGAINST YOUR BACK WHILE YOU KICK YOUR HEAD TO THE HEAVENS AND LAUGH AT HOW FOOLISH THE WORLD SEEMS.
-----------------------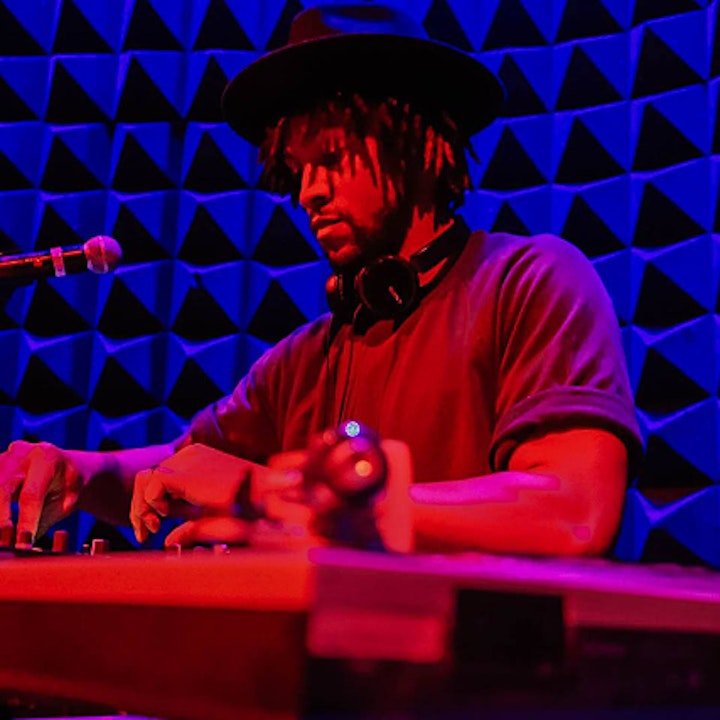 DJ DUGGZ

-----------------------

Venue Information:
The Van Buren
401 W Van Buren St
Phoenix, AZ, 85003