Presented by Stateside Presents & Live Nation
Rex Orange County
The Van Buren
Phoenix
,
AZ
$38.12 - $42.62
Sold Out
On Ticketweb
Doors 7pm | Show 8pm | 13+ (12 + under admitted with a parent or legal guardian)
SOLD OUT
ADVANCE PRICE: $38.12 + FEES / DAY OF SHOW PRICE: $42.62
EACH TICKET PURCHASED ONLINE FOR THE UPCOMING REX ORANGE COUNTY TOUR COMES WITH A PHYSICAL COPY OF HIS UPCOMING NEW ALBUM "PONY". AFTER YOUR TICKET PURCHASE YOU'LL RECEIVE AN ADDITIONAL EMAIL IN THE COMING WEEKS WITH INSTRUCTIONS ON HOW TO REDEEM YOUR ALBUM. US/CAN PURCHASERS ONLY. NOT VALID FOR FAN TO FAN RESALE. PLEASE NOTE: NOT ALL EVENTS WILL BE PARTICIPATING IN THE ALBUM BUNDLE OFFER. MAXIMUM REDEMPTION OF FOUR ALBUMS PER HOUSEHOLD.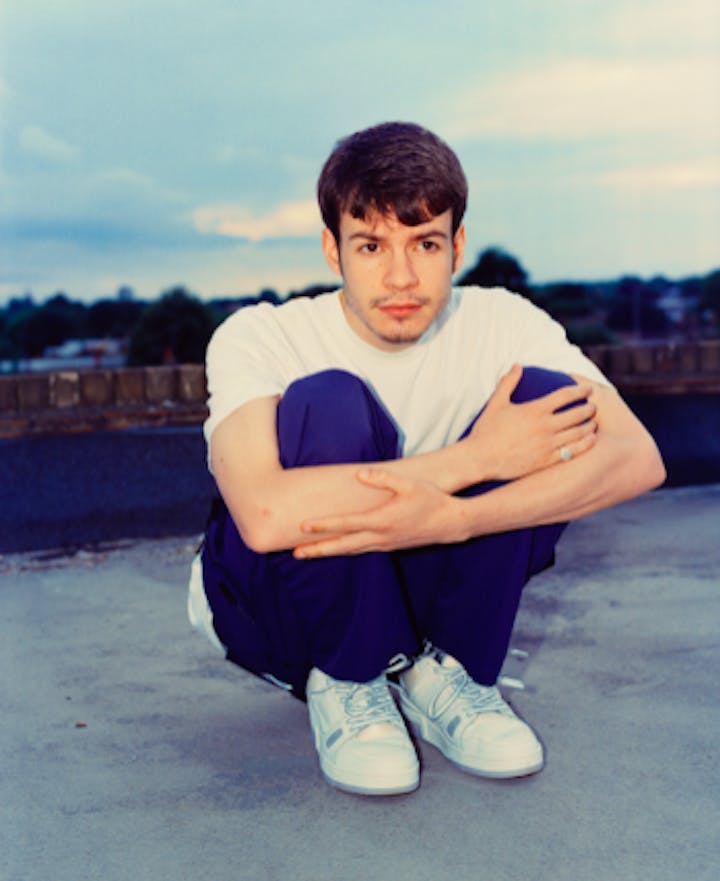 REX ORANGE COUNTY

Website | Facebook | Twitter | Instagram | Soundcloud | Youtube

"I DON'T WANT TO DO ANYTHING ELSE WITH MY LIFE. THIS IS THE PERFECT JOB. I'M ALSO AWARE THAT IT'S BRUTAL, AND THAT'S WHERE THE PRESSURE COMES FROM – I KNOW THAT PEOPLE NEED TO LOVE IT FOR THIS TO CONTINUE" – REX ORANGE COUNTY, MARCH 2019

"I HAD A THINK ABOUT MY OLDEST FRIENDS, NOW I NO LONGER HANG WITH THEM/AND I CAN'T WAIT TO BE HOME AGAIN/I HAD A YEAR THAT NEARLY SENT ME OFF THE EDGE/I FEEL LIKE A FIVE I CAN'T PRETEND/BUT IF I GET MY SHIT TOGETHER, THIS YEAR MAYBE I'LL BE A 10" – 10/10, SEPTEMBER 2019

FOR A MINUTE THERE, REX ORANGE COUNTY FELT LIKE A FIVE. HALFWAY THERE. SEMI-SATISFIED. A DEMIQUAVER SHORT OF HAPPINESS.

AT FIRST THE YOUNG SINGER-SONGWRITER AND MULTI-INSTRUMENTALIST WASN'T ENTIRELY SURE WHY. HIS DEBUT ALBUM, BCOS U WILL NEVER B FREE, SELF-RELEASED ON SOUNDCLOUD WHEN HE WAS BARELY 18 AND JUST ARRIVED IN LONDON, CAUGHT A WAVE OF INTEREST. ITS LO-FI TEXTURES AND HI-DEF EMOTIONS LED TO A HOOK UP WITH TYLER, THE CREATOR. HE ASKED THE TEENAGER BORN ALEX O'CONNOR TO COME TO LOS ANGELES, WHERE HE WROTE AND SANG ON TWO TRACKS ON THE ALBUM THAT BECAME FLOWER BOY.

INSPIRED, REX TURNED TO MAKING HIS OWN ALBUM PROPER, 2017'S APRICOT PRINCESS, A BEAUTIFUL, WOOZY, HEART-SHAPED TRIBUTE TO HIS GIRLFRIEND. A NUMBER TWO SLOT ON THE BBC'S SOUND OF 2018 FOLLOWED, AS DID LOTS – AND LOTS – OF TOURING.

ALL GOOD, RIGHT?

WELL.

"I PUT THE LAST ALBUM OUT AND LET IT GO OUT THERE," BEGINS THE THOUGHTFUL, REFLECTIVE MUSICIAN. "I JUST LET IT BE. MY MAIN PRIORITY IN ALL THIS IS TO PLAY LIVE. I REALLY THRIVE ON STAGE; I MUST CRAVE THAT TYPE OF MY ATTENTION. IT'S THE ONE THING I REALLY DESIRE IN MY LIFE. NOT EVEN THE WRITING OF THE SONGS DOES THE SAME THING FOR ME.

"SO I SPENT A YEAR TOURING, AND EXPERIMENTING A BIT – I WORKED WITH SOME OTHER PRODUCERS AND IT WAS A REALLY VALUABLE LESSON: I LEARNT THAT I DIDN'T WANT TO DO THAT."

HE ALSO LEARNED THAT ALL WASN'T WELL IN HIS PROFESSIONAL WORLD.

"I WAS FEELING QUITE SUPPRESSED IN MY WORK. I REALLY DID HAVE A BAD YEAR," HE SAYS, NODDING TOWARDS A KEY LYRIC AT THE TOP OF HIS NEW ALBUM, IN FIRST TRACK AND JUST-RELEASED FIRST SINGLE 10/10.

"THAT SONG IS PURELY AUTOBIOGRAPHICAL AND IT IS DEFINITELY TRUE. I DON'T WANT TO GO INTO THE DETAILS, BUT I'D BEEN IN A TUNNEL THAT WAS VERY DARK. THEN, WRITING THAT SONG, THE LYRICS CAME QUICKLY, AND I CAME OUT OF THE TUNNEL – AND I FINALLY FELT I COULD LOOK AT THE FUTURE IN A POSITIVE WAY. IT'S DEFINITELY NOT A LOVE SONG, OR EVEN AN ANTI-LOVE SONG. IT'S JUST ANTI- ANYONE WHO'S EVER TRIED TO BRING YOU DOWN AND PUT YOU IN A BAD PLACE."

BUT HERE'S THE GENIUS BIT: 10/10 ISN'T SNARKY, EMBITTERED, ANGRY-SOUNDING. IN REX ORANGE COUNTY'S GLORIOUS NEW SINGLE AND ALBUM CURTAIN-RAISER THERE IS POSITIVITY AND UPLIFT, EVEN AS THERE'S A BITE AND EDGE TO THE LYRICS. HE HAS, IN FACT, ALCHEMISED SOME REAL SHIT INTO MELODIC GOLD. ONCE AGAIN, HE'S SCORING FULL MARKS IN THE EMOTIONAL STAKES.

"I HAD A PLAN TO MAKE IT SOUND POSITIVE AND HAPPY AND OPEN. AND IT WAS ALSO DEFINITELY GOING TO BE THE FIRST SONG ON THE ALBUM, FROM THE MOMENT WE MADE IT. IT'S MEANT TO SUMMARISE ALL THE SONGS: THIS IS WHAT HAPPENED, AND THIS IS WHERE I'M AT NOW. THEN TRACK TWO ONWARDS IS ME JUST EXPLAINING EACH LAYER."

THIS IS THE SET-UP, THE FRAMEWORK, FOR AN ALL-ROUND WONDERFUL ALBUM THAT REX IS CALLING PONY.

"FIRSTLY I LOVE THE WORD AND HOW IT LOOKS," HE EXPLAINS OF THE TITLE. "BUT IT'S FOUND ITS WAY INTO HAVING SOME RELEVANCE. THE IDEA THAT A YOUNG VERSION OF A GROWN THING HAS A NAME AS WELL… BUT WITH THE ALBUM COVER JUST SHOWING MY FACE, THE IDEA IS: THIS IS ME WHEN I WAS A YOUNG MAN, AND THAT'S WHAT I REALLY LOOKED LIKE, AND THAT WHAT'S I FELT LIKE. I FELT LIKE A YOUNG HORSE, IN A WAY!" HE SAYS CHEERFULLY.

PONY IS BOTH SIMPLE AND SMART: FIVE SONGS LAYING OPEN THE TROUBLES THAT BESET REX OVER THE LAST YEAR OR SO, THEN FIVE TRACKS TEEING UP HOW HE TURNED THINGS ROUND. OR, AS HE PUTS IT: "THE FIRST HALF TO ME IS THE ANGRY, REFLECTIVE THING. AND THE SECOND HALF IS: NOW I'VE GOTTEN OVER IT."

THAT MEANT THERE WAS NO ROOM FOR NEW HOUSE, THE BRILLIANT SURPRISE SINGLE HE DROPPED EARLIER THIS YEAR.

"I FEEL LIKE THAT SONG IS TOO NEGATIVE TO GO ON THE ALBUM. I WAS IN QUITE A BAD PHASE FROM THE END OF LAST YEAR TO FEBRUARY, SO IT WAS WORTH SAYING AND PUTTING IT OUT THERE: I'M STILL IN LOVE BUT I'M UNHAPPY FOR THESE OTHER REASONS…"

"PLUS," HE SMILES, "I LIKE A TEN-SONG ALBUM."

THIS IS THE ROC NATION: HE WROTE, RECORDED AND PLAYED ALMOST EVERYTHING HIMSELF, IN STRONGROOMS STUDIOS IN SHOREDITCH, EAST LONDON. BEN BAPTIE, HIS ENGINEER, PRODUCING PARTNER AND WINGMAN, IS PRETTY MUCH THE ONLY OTHER PERSON INVOLVED – APART FROM LEGENDARY BASS PLAYER PINO PALLADINO ON THE SPARKLING FACE TO FACE, AND REX'S MUSICIAN GIRLFRIEND SINGING A LINE IN THE MIDDLE OF THE PITHILY CANDID NEVER HAD THE BALLS.

FACE TO FACE BLOOMS WITH KALEIDOSCOPIC, MULTI-TRACKED VOCALS AND AN ENERGETIC SPRING IN ITS STEP. ITS AMBITION SET A BENCHMARK FOR REX AND BAPTIE WHEN THEY BEGAN WORK IN MAY 2018.

"WE MADE FACE TO FACE QUITE EARLY ON. IT SOUNDS QUITE SIMILAR TO HOW IT DOES NOW, BUT IT WAS SURPRISING TO BOTH OF US TO HAVE SOMETHING THAT WAS SO MUCH MORE EXPANSIVE, JUST SONICALLY RICH."

HE WAS PLEASED AT THIS TURN OF EVENTS AND INSPIRED. "BEN AND I REALISED THAT WE WERE GOING TO HAVE TO RAISE THE BAR TO THIS LEVEL. THAT IS A CORNERSTONE SONG FOR THE ALBUM, AND SO IS 10/10."

ALONGSIDE GIRLFRIEND THEA, NEVER HAD THE BALLS ALSO FEATURES PIZZICATO STRINGS, BIRDS TWEETING AND A CRACKING FUZZY GUITAR SOLO. "I REALLY WANTED TO GET ALBERT HAMMOND JR OR RIVERS CUOMO TO DO IT," ADMITS REX. "I EMAILED THEM BOTH BUT NEITHER OF THEM WERE ABLE TO. SO I DID IT. I'M NOT REALLY A GUITAR PLAYER, BUT IT WAS WORTH IT.

"THE SUBJECT MATTER IS REFLECTING ON THE FACT THAT I WAS LOST," HE CONTINUES, "BUT I'M BACK NOW. IT'S VERY MUCH IN THE PRESENT LOOKING AT THE PAST. AT THE END IT'S SAYING: I AM THE MAN IF YOU'RE LOOKING FOR A POSITIVE TIME, BECAUSE I AM BETTER."

AND THOSE BIRDS ARE TWEETING BECAUSE THE SKIES HAVE CLEARED SOMEWHAT? REX SUCKS DEEP ON HIS CIGARETTE AND NODS FROM WITHIN HIS HOODIE.

"AND WHERE IT COMES IN THE ALBUM, IT'S MEANT TO BE THAT TURNING POINT AT MIDWAY. I'D LIKE TO THINK EVERY SONG AFTER THAT IS ME SAYING: NOW I'M SETTLED AND LOOKING AT THE GOOD THINGS IN MY LIFE."

THAT CLOSING RUN OF SONGS INCLUDES THE RANDY NEWMAN-ESQUE EVERYWAY, A CLASSIC PIANO BALLAD, AND IT GETS BETTER, GLOWING WITH STRINGS AND BEATS. BOTH, HE SAYS TENDERLY, "ARE ABOUT THE PERSON I LOVE".

REX ORANGE COUNTY SIGNS OFF WITH HIS BEST VOCAL AND AFFECTING, MOURNFUL BRASS ON THE QUIETLY EPIC IT'S NOT THE SAME ANYMORE.

"YOU MIGHT SAY THAT'S A SAD LITTLE PHRASE," HE ACKNOWLEDGES. "I'M NOT TRYING TO END ON A SAD NOTE, BUT ARTISTICALLY I LIKE THE IDEA OF PEOPLE MAYBE WANTING TO CRY ON THE LAST SONG. AND IT FELT LIKE IT HAD TO BE A LONG, REFLECTIVE SONG.

"BUT THE ULTIMATE POINT IS: IT'S NOT THE SAME ANYMORE – IT'S BETTER. IT'S THE MOST POSITIVE THING I COULD SAY. MY LIFE HAS FULLY CHANGED."

IT ALL COMES BACK TO THAT JOURNEY, FROM DESPAIR TO HERE. FROM FEELING ONLY HALFWAY TO HAPPINESS, TO FEELING LIKE A TEN OUT OF TEN.

"IF THERE'S A CONCEPT, IT'S THAT: THINGS CHANGE, PEOPLE CHANGE, WE LEARN A LOT, AND I'VE LEARNT A LOT. I CLEARLY GRAVITATE TOWARDS SPEAKING MY TRUTH."

RATHER, REX ORANGE COUNTY WANTS TO LIVE HIS MUSICAL LIFE. TO BE FREE TO TAKE HIS EMOTIONAL SHOW ON THE ROAD, AND SEE AUDIENCES BE SPURRED TO SMILES, BUT ALSO MOVED TO TEARS. IT'LL BE REAL, IT'LL BE TRUE, IT'LL BE A ROLLERCOASTER.

"I JUST LOVE TO PLAY LIVE WITH MY BAND," HE CONCLUDES. "IT'S JUST THE MOST REWARDING PART. AND NOW I'M WAY HAPPIER THAN I WAS BEFORE, I WANT TO LET PEOPLE HEAR THAT IN THE SONGS – BUT ALSO HEAR WHAT IT TOOK TO GET HERE. THAT'S ALL."

Venue Information:
The Van Buren
401 W Van Buren St
Phoenix, AZ, 85003