Stateside & Live Nation Present
Kat Von D
Prayers
Show:

8:00 pm
Doors:

7:00 pm
The Van Buren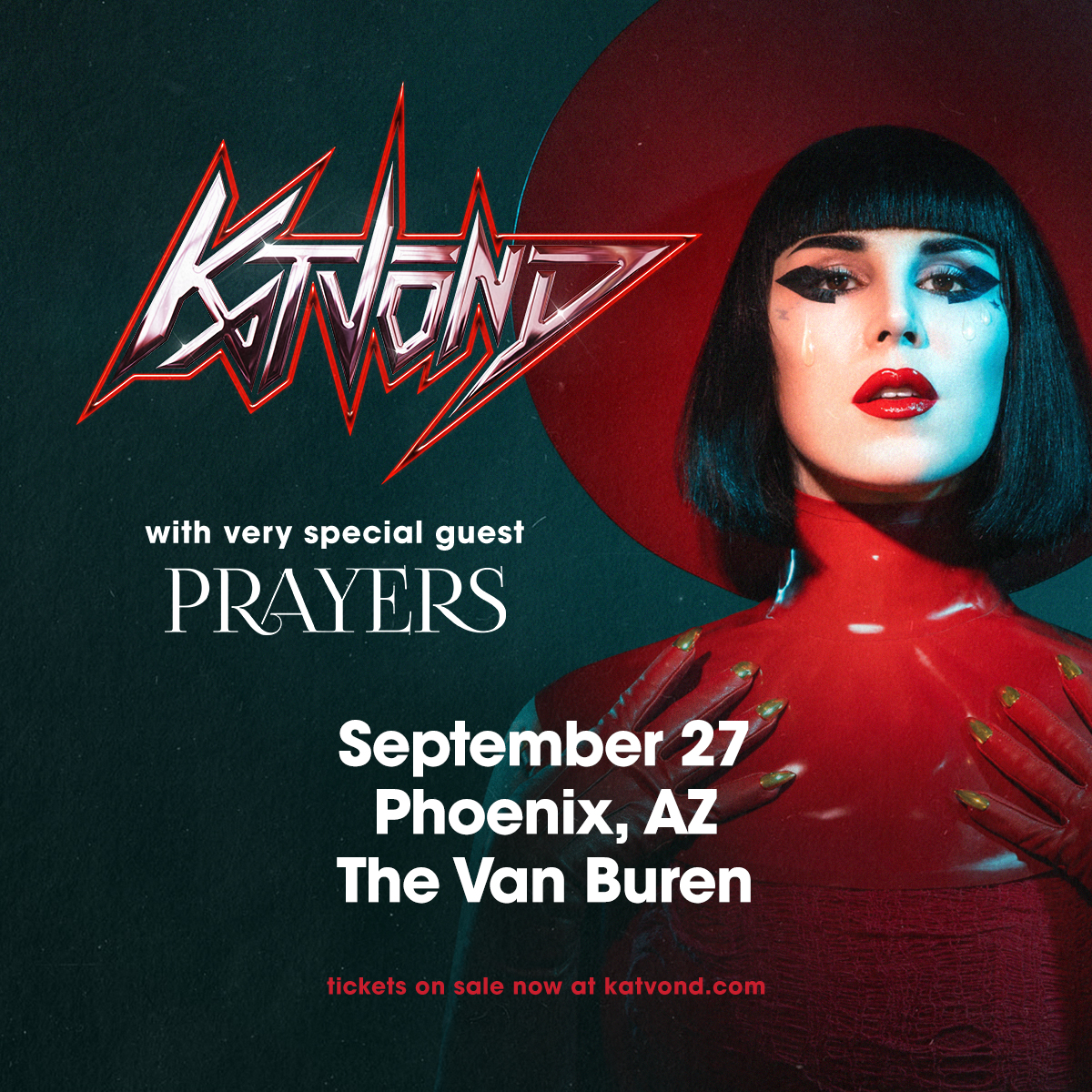 Additional Info
Advance: $30 + fees / Day of Show: $35 + fees

This event is 13+(12 and under admitted with Parent/Legal Guardian)

Please Note: There is a delivery delay in place through 09/24/2021. No tickets will be sent out prior to 09/24/2021.

**To reduce staff contact with guest belongings, we have implemented the following bag policy: we will allow clear plastic, vinyl or PVC tote bags no larger than 12" x 6" x 12" and/or small clutch bags (4.5"x 6.5"). It is recommended that attendees wear protective masks when not actively eating or drinking. **
Artists
Kat Von D
Long before the history-making tattoos, ubiquitous television shows, best-selling books, and influential beauty empire, Kat Von D sat down at a piano for nearly two hours a day and played. In essence, music became her first creative language and most trusted outlet. Classical training and a deep appreciation for music of all genres essentially underscored her life. This passion funneled into her long-awaited full-length debut album, Love Made Me Do It [KVD/Kartel Music Group]. A pastiche of shapeshifting analog synths, post-punk dreamscapes, gothic hues, and shy pop magnetism, these eleven songs echo the eternal will of the perennially brokenhearted to love until death. It also fulfilled a lifelong ambition.
"More than any other medium, music has always been at the core of who I am, even before drawing and tattooing," she exclaims. "I've never pursued it publicly until now—which will hopefully be a pleasant surprise."
Born in Montemorelos, Mexico and growing up in the Inland Empire of Southern California, she honed her chops on piano at just five-years-old. Her grandmother, now 98-years-young, presided over marathon practice sessions daily, while mom ran a timer. In between the tears and resentment, Kat learned how to read music as she developed a fascination with Mozart and her personal favorite Beethoven. This continued until high school when she left home.
Over the next two years, she studied voice under Ken Tamplin six days per week, strengthening her vocals. She sowed the seeds of the album during early sessions with GRAMMY® Award-nominated legend Linda Perry. Kat continued to write on her own, sitting at the piano and summoning songs from raw emotion. In 2014, she retreated to London to record the original mix of what would become Love Made Me Do It before cementing it with her band—Gregg Foreman AKA Mr. Pharmacist [synth 1], Sammi Doll [synth 2], Dave Parley [drums], and Brynn Route [contortionist]. They moved into a bungalow cottage on her property, lived together, and finished the record. Capping off the process, Dan Haigh of Gunship handled mixing.
She introduces the album with "Exorcism" and its cinematic music video (which she personally directed). On the track, eerily warm keys melt a glitchy beat as her voice drives forward. Kat's robust vocals flutter from deep intonation on the verses before an emotionally charged refrain.
"My friend used to stay at my house, and we would have marathons of every exorcism movie that ever existed," she goes on. "In The Exorcism of Emily Rose, Emily writes a letter about how she's basically surrendered to the demon. I thought there was something beautiful in that. She became a martyr, and that makes her a saint. I translated the element of being possessed with what it's like to be in love and how falling in love with someone can tear you apart and leave you black and blue."
On "I Am Nothing," her angelically fragile timbre coasts over sparse synths and a dreamy beat before a lush chorus glides off into the ether.
"It's about not feeling good enough to be the one," she goes on. "In some relationships, it doesn't matter how fast you run to keep up…You still feel like you're disappearing into nothingness. Now, I look back on it. Nobody is nothing, and you shouldn't feel worthless. There are times where love makes you feel that way though."
Then, there's "Fear You." On the track, impassioned paranoia seeps through the cracks of her delivery as she details "being scared to let yourself fall in love." Produced by and co-written with Danny Lohner [Nine Inch Nails, A Perfect Circle], the talismanic "Protected" entwines her voice with that of Bauhaus frontman Peter Murphy over raindrops and a funeral procession of keys. Their call-and-response proves instantly chilling. Paying homage to another influence, she embalms the "Interlude" with the phrase from Beethoven's letter to his Immortal Beloved—"Ever Thine, Every Mine, Ever Ours." The journey culminates on "The Calling." Glossy synths pulsate as she immortalizes the first scream queen Vampira in a gorgeous elegy punctuated by an original poetry reading by the muse herself.
"It's about death, but more specifically, I was inspired by Vampira," she states. "I've always loved her. Before she died, Vampira gave my friend Johnny Coffin her old reel-to-reel diary recordings. I had to use these never-before-heard recordings on the bridge."
Love Made Me Do It sits at the core of Kat's universe. Throughout an incredible career as a true iconoclast, she fronted the popular TLC series LA Ink out of her very own High Voltage Tattoo in Hollywood. As a tattoo artist, she set the Guinness World Record for "most tattoos given by a single person in 24 hours," conjuring a staggering 400. She has authored two New York Times best-selling books, namely High Voltage Tattoo and The Tattoo Chronicles. A longtime champion for animal rights, she joined forces with Academy® Award winner Joaquin Phoenix, Rooney Mara, and Sia as the narrator of the award-winning documentary Dominion by Chris Delforce.
However, music is still her first and strongest passion as evidenced by Love Made Me Do It.
"With anything I've ever created, I always hope audiences enjoy the final product," she leaves off. "The music should speak for itself. I've spent years tattooing lyrics, album covers, band logos, and song titles on people. I hope this music translates on the same level to listeners."