Psyko Steve Presents
MisterWives
Frances Forever
Show:

8:00 pm
Doors:

7:00 pm
The Van Buren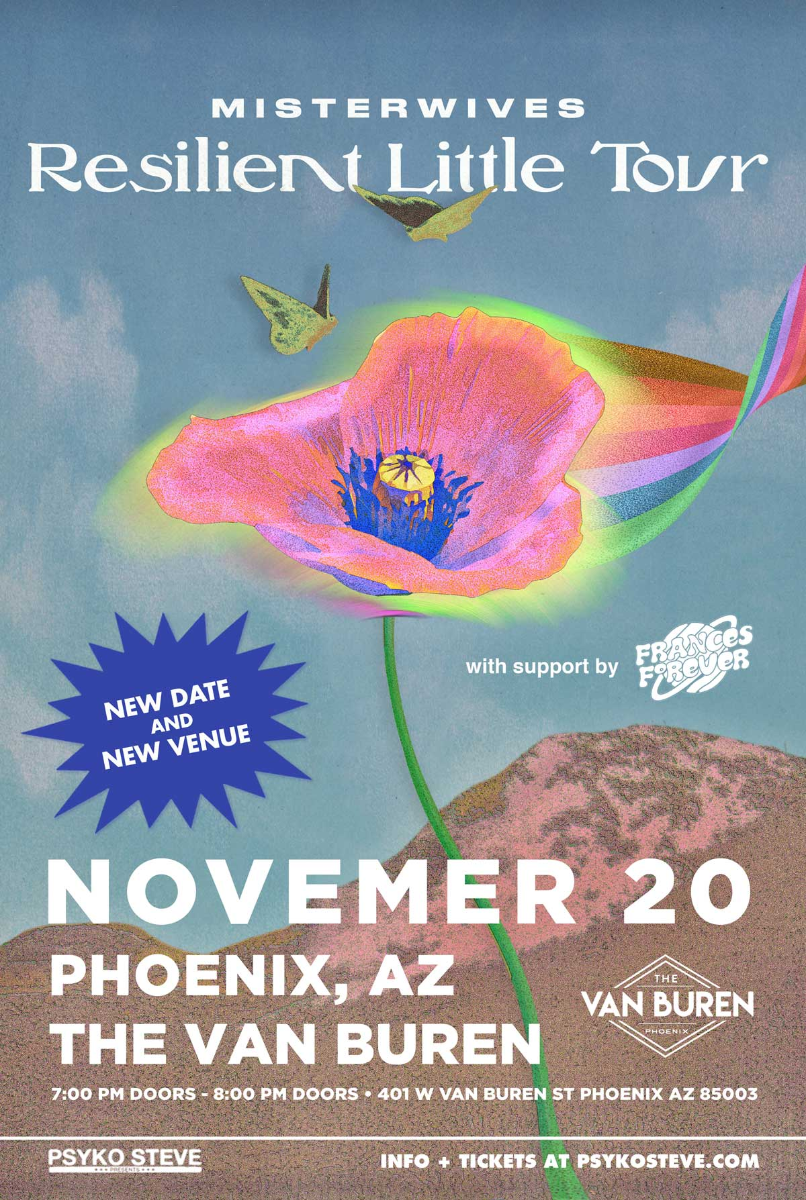 Additional Info
The Event Organizer is requiring all attendees of this event to have received a negative COVID-19 test within 72-hours prior to entering the venue, OR be fully vaccinated against COVID-19. In attending the event, you certify and attest that you and all individuals in your party attending the event will abide by the following regulations:

All fans will provide printed proof of a negative COVID-19 test within 72-hours prior to entering the venue, OR be fully vaccinated against COVID-19 (at least two weeks after final dose) and provide printed documentation providing proof of immunization. Unvaccinated fans under 12 years of age will be required to take a COVID-19 diagnostic test within 72-hours before the event and will provide proof of negative result prior to entering the venue.

Entry requirements and venue protocols are subject to change.

Advance Price: $29 + fees / Day of Show Price: $33 + fees

VIP1 - Misterwives SUPERBINGO Night $104 + fees
⁃ One General Admission Ticket
⁃ Play SUPERBINGO hosted by Misterwives
⁃ The SUPERBINGO winner will get to perform one karaoke song with Misterwives (don't worry if you have stage fright — you can nominate someone else or a band member), plus a prize!
⁃ One socially distanced group photo with Misterwives
⁃ Early access to SUPERBLOOM-themed photo booth
⁃ One custom SUPERBINGO card autographed by Misterwives
⁃ One exclusive Misterwives sticker pack
⁃ Early entry to the concert plus merchandise shopping




This event is 13+ (12 & under admitted with parent/legal guardian)

To reduce staff contact with guest belongings, we have implemented the following bag policy: we will allow clear plastic, vinyl or PVC tote bags no larger than 12" x 6" x 12" and/or small clutch bags (4.5"x 6.5").

Artists
MisterWives
Following the release of their critically acclaimed debut album 'Our Own House,' touring internationally, and performing at some of the biggest music festivals around the globe, MisterWives begins a new chapter in 2017. The band, consisting of Mandy Lee [vocals], Etienne Bowler [drums], William Hehir [bass], Marc Campbell [guitar], Jesse Blum [keys, trumpet, accordion] and Mike Murphy [Saxophone] will release their highly anticipated 2nd album 'Connect the Dots' worldwide through Photo Finish/Republic Records this spring. Born and raised in the creative crucible of New York City, MisterWives are the latest in a long line of genre defying bands to break out of the city that never sleeps and gain recognition on a global stage.
After renovating their long-time basement studio, the band spent a couple of months, in what they called Band Camp. Band Camp was their summer getaway to focus all their energy on writing and recording the album. They were able to create in an environment with no limits, no time constraints, nightly poker games, bbq's, some hysterical relay races and an atmosphere that solely promoted creativity. Having the opportunity to work in this way left the band wanting more so when the studio's proprietors -- Etienne's parents -- returned from their summer vacation, the MisterWives packed up their gear and moved to a house outside Woodstock, NY where they converted the living room of the house into a makeshift studio to finish writing the second-half of the album.
The final piece of the puzzle fell into place when the band flew to LA and met with producer Butch Walker. "Working with Butch aka the legend-jedi-ninja-warrior-producer was the answer to our prayers" says lead singer Mandy Lee. "Butch is by far one of the nicest most talented humble dudes in the business who continuously inspired us throughout the recording process. It was so refreshing getting to work with a producer who believed in humans making music, not computers. We had such a blast getting to record our parts in a few takes rather than comping/slapping parts to the grid/auto-tuning and other techniques that typically suck the soul out of music. Besides being a musical genius Butch is also the sweetest guy who somehow doesn't eat any sugar...riddle me that."
MisterWives' first single "Machine" was released on February 17th and showcases the next step in the band's musical direction. Influenced by many disparate genres yet beholden to none, the song demonstrates a tremendous self-assuredness and furthers the band's commitment to always being true to themselves even in the face of the music industry's constant pressure to conform. Songwriter Mandy Lee says, "'Machine' is a rallying cry to stand against a world that suppresses individuality and diversity. This song embodies the movement of celebrating our differences, staying true to yourself and to always stick it to the Sith Empire."
Just as the band's musical stylings know no bounds, the same can be said for Mandy's lyrical subject matter. "Oh Love" and "Revolution" paint a portrait of today's tumultuous political and social climate, inspiring audiences to reflect on what we can do to better live in harmony. "My Brother" highlights the enduring strength of familial bonds while grappling with mental illness, "Chasing This" explores the continuing weird and wonderful journey they've been on together and of course that simple and wonderful sickness that is LOVE with songs like "Coloring Outside the Lines" and "Drummer Boy."
Says drummer and co-producer Etienne Bowler, "We worked out of my parents' basement, DB Studios, and pieced together the demos one day at a time, constantly revisiting and pushing the songs to the outmost bounds, rhythmically and harmonically."
Mandy Lee adds, "I will say this till the day I die but music is medicinal and I'm so fortunate to have an outlet that helps me overcome any tragedy or celebrate any triumph thrown my way. This record lyrically and sonically goes in so many different directions, which is how the concept "Connect The Dots" came to fruition. Our existence is made up of so many different variables that we are constantly trying to piece together and make sense of. At times it might just look like a jumbled nonsensical mess of numbers and dots but in actuality each piece is crucial to completing the picture."
"The last few years have definitely been the best kind of whirlwind you could ask for!" says bassist Will Hehir. "We've been so lucky to get to play live for amazing audiences all around the world, develop musically as a band and grow even tighter then any of us ever thought possible. We're humbled by the people who have supported our music over the last few years and can't wait to see what the next part of the journey has in store for us!"
In addition to releasing 'Connect the Dots,' MisterWives will be touring around the country with Panic! at the Disco on a sold out arena tour this spring, to be followed soon after by nationwide headline dates, festival appearances and general world domination.
Frances Forever
Frances Forever can spin anything into sunshine. As the project of Boston-area singer-songwriter Frances Garrett, its myriad moods can send listeners reeling into romance or off floating in existential space. Garrett balances their familiarity with extremes with an undeniable ear for melody and a gift for writing tracks that could live at home anywhere on the pop timeline.