Stateside & Live Nation Present
Aminé
Cochise
Show:

8:00 pm
Doors:

7:00 pm
The Van Buren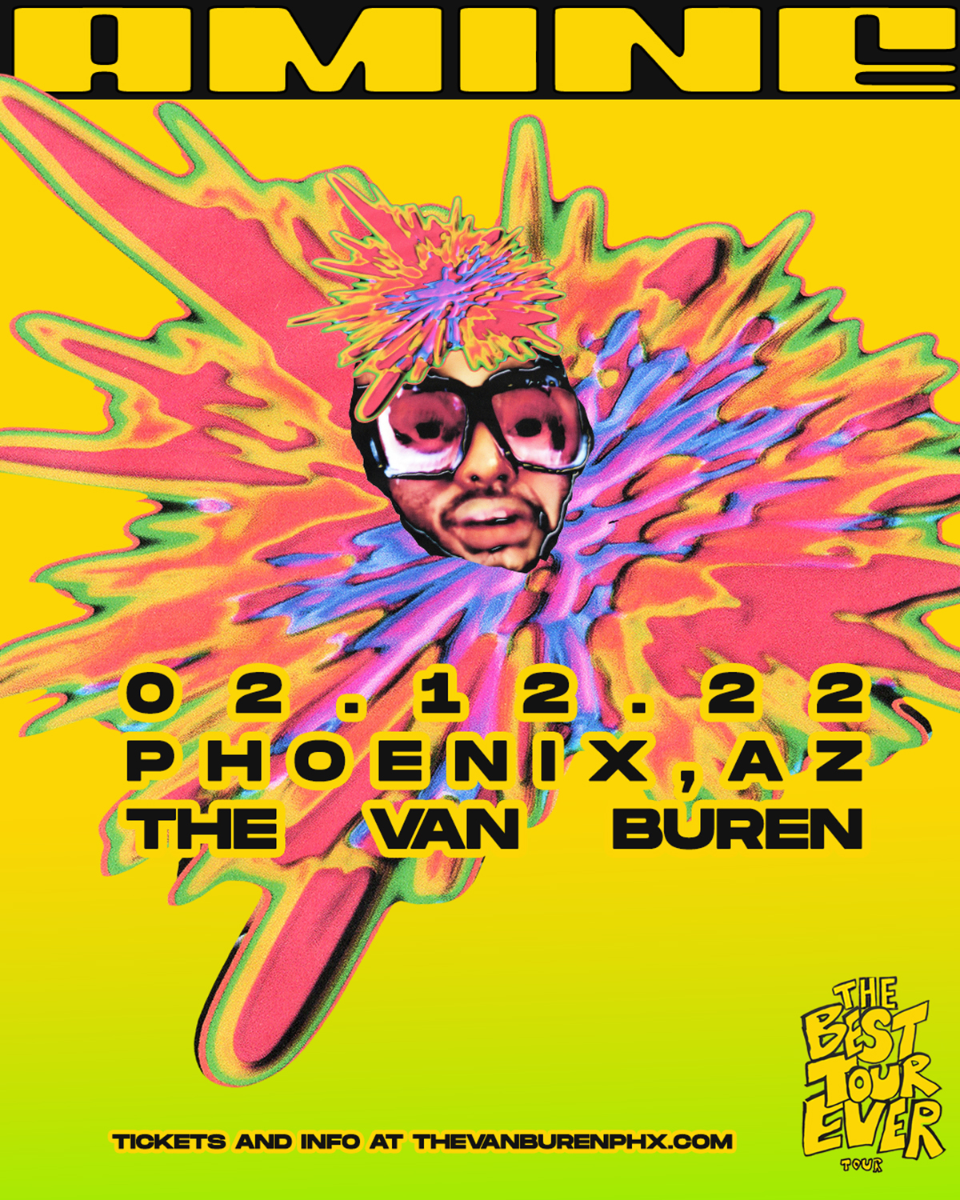 Additional Info
Advance T1 Price: $32.50 + fees / Advance T2 Price: $37.50 + fees /
Advance T3 Price: $42.50 + fees

This event is 13+ (12 & under admitted with parent/legal guardian)

Please Note: There is a delivery delay in place on tickets through 02/09/22. No tickets will be sent out prior to 02/09/22.

To reduce staff contact with guest belongings, we have implemented the following bag policy: we will allow clear plastic, vinyl or PVC tote bags no larger than 12" x 6" x 12" and/or small clutch bags (4.5"x 6.5").

The Event Organizer is requiring all attendees of this event to have received a negative COVID-19 test within 72-hours prior to entering the venue, OR be fully vaccinated against COVID-19. In attending the event, you certify and attest that you and all individuals in your party attending the event will abide by the following regulations:

All fans will provide printed proof of a negative COVID-19 test within 72-hours prior to entering the venue, OR be fully vaccinated against COVID-19 (at least two weeks after final dose) and provide printed documentation providing proof of immunization. Unvaccinated fans under 12 years of age will be required to take a COVID-19 diagnostic test within 72-hours before the event and will provide proof of negative result prior to entering the venue.

Entry requirements and venue protocols are subject to change.

Artists
Aminé
Amine, originally named Adam Amine Daniel, is an American singer, songwriter, director, and rapper. He entered the entertainment industry with a big splash. His debut track titled 'Caroline' turned out to be an outstanding commercial hit. It was peaked at 11th position on the Billboard Hot 100 chart. On Jul 28, 2017, the fabulous entertainer officially launched his debut studio album titled 'Good for You' via Republic and CLBN Records. The album included some of the most striking guest appearances from renowned celebrities such as Offset, Kehlai, Dolla Sign, and Charlie Wilson, to name a few.
He signed a record deal with Republic Records in August 2016. On Nov 4, 2016, the rapper rolled out his 2nd hit track 'Baba' via Republic Records. It proved to another outstanding success after his debut single 'Caroline'. On Nov 15, 2016, the rapper also performed his debut single on 'Tonight Show Starring Jimmy Fallon'. He came up with another striking single titled 'RedMercedes' on Mar 9, 2017. Again he launched the official music video to this single through his Vevo channel on the largest video website, YouTube. On May 26, 2017, he released a remix version of the track on iTunes.
Amine began taking interest in music after listening to Tupac Shakur's on his mother's request. Soon he started rapping and performing in front of his schoolmates. A few of his friends inspired the young and talented boy to become a professional rapper. After completing his graduation from the University of Portland, he started taking music seriously. The rapper has performed associated acts with Charlie Wilson, Kaytranada, and Injury Reserve. He began his official rap career in 2014 and since then he has given many striking numbers to music enthusiasts. He attracted fans from across the United States through his mixtape titled 'OnePointFive', which came out in 2018.
Cochise
Terrell "Cochise" Cox is an upcoming rapper known for songs like "Knicks", "Hatchback", "TELL EM", and "Pocket Rocket". Due to the viral success of "Hatchback", Cochise signed a record deal with Columbia Records. "TELL EM" was the first song by Cochise, to earn both an RIAA Certification, and a Gold variant of one. His song "Hatchback" was the second.