Pysko Steve & Live Nation
iDKHOW
Joywave
Show:

7:00 pm
Doors:

6:00 pm
The Van Buren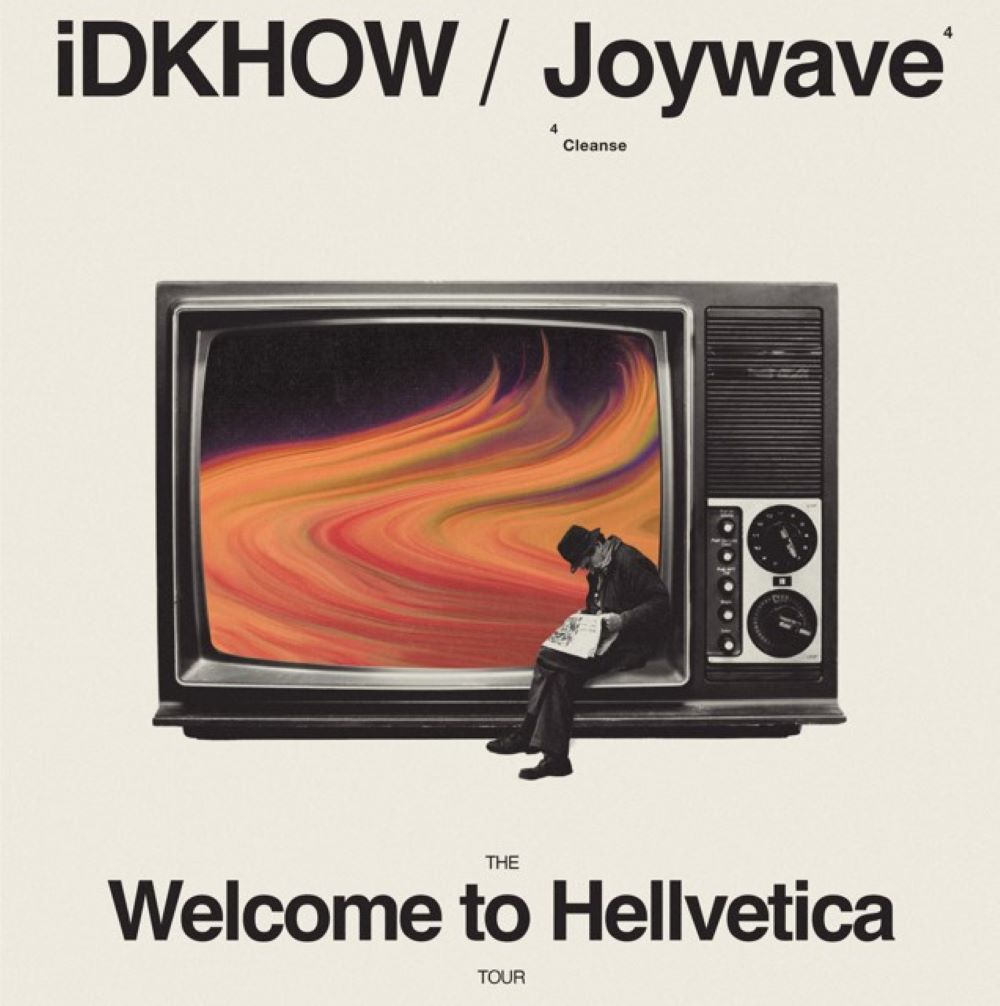 Additional Info
Advance Price: $29 + fees / Day of Show Price: $33 + fees

This event is 13+ (Ages 5-12 must be accompanied by a parent/legal guardian. Children 4 and under not admitted.​)​

Please Note: There is a delivery delay in place on tickets through 09/11/22. No tickets will be sent out prior to 09/11/22.

*CLEAR BAG POLICY*
To reduce staff contact with guest belongings please make sure bags meet the following requirements: we allow clear plastic, vinyl, or PVC bags with a single compartment (NO BACKPACKS) no larger than 12x6x12, and small handbags no larger than 4.5x6.5 (do not need to be clear).

Based on the latest local guidelines, attendees are no longer required to provide proof of negative COVID-19 test AND/OR vaccination for entry into this event. Be sure to check your venue website for the latest updates and guidelines as entry requirements are subject to change.

Artists
iDKHOW
I DONT KNOW HOW BUT THEY FOUND ME, or iDKHOW is the new project led by frontman, multi-instrumentalist, and mastermind Dallon Weekes. The group has yet to release their debut album but already have a string of hit singles under their belt including "Choke", which clocked over 42 million Spotify streams and "Do It All The Time", which posted up 22 million Spotify streams as well as a debut EP, 1981 Extended Play that impressively bowed at #1 on the Billboard Top Heatseekers Albums Chart. They have earned acclaim from Ones To Watch, DIY Magazine, Alternative Press, and graced the cover of Rock Sound, the magazine proclaimed iDKHOW, "the hottest unsigned band in the world."
Dallon Weekes made waves in Panic! At The Disco from 2009-2018, touring around the world and picking up Gold and Platinum plaques as a key songwriter on the chart-topping Too Weird to Live, Too Rare to Die! and more. In 2016, he introduced iDKHOW at a small show in Los Angeles before denying its existence for months to follow. The project formally revealed itself prior to hitting the road and performing on the mainstage at UK's Reading and Leeds Festivals as well as sharing stages with the likes of Twenty One Pilots, The 1975, Billie Eilish, The Killers, The National and Blink 182, just to name a few.
With a curated storyline - iDKHOW was initially believed to have been a band from 30 plus years ago that never got their big break. A band that time forgot. But in 2017, an anonymous donor began to release recovered video footage of iDKHOW. The videos, released out of chronological order, span the years 1964 to 1983 and hint to a different story than that of a band lost to obscurity. As this footage of iDKHOW has surfaced in the past three years, fans, music historians and conspiracy theorists have converged on internet platforms to debate the story of iDKHOW.
Joywave
Cleanse is Joywave's fourth studio album and is the follow-up to 2020's Possession which
released on March 13th 2020 as the world shut down. With a virus ravaging the world and no
possibility of touring for the foreseeable future, Joywave frontman Daniel Armbruster was once
again able to dig into his own psyche and see what surfaced. The 10 tracks that make
up Cleanse were conceived, written and recorded in Armbruster's home studio when
"reminders of our fragile mortality were everywhere, punctuated by the ongoing pandemic and
civil unrest," he notes. "Cleanse became the words, encouragement, and occasional cautions
that I would want to share with you if this was the last time we spoke," Armbruster reflects.
Highlights on the album include the catchy and clever "Buy American, " the introspective "After
Coffee" which celebrates the pleasures of the mundane, the ambient groove of "Pray For The
Reboot," the brooding and expansive "The Inversion" and "Every Window Is A Mirror" which
according to Armbruster recalls "our inability to understand the experiences of others."

THE INSIDE TRACK
"This is the first time since Joywave has been a known entity that I can remember no one
explicitly asking me to make a record. Our third LP, "Possession", came out March 13th 2020,
and the world stopped just a few days later. Our whole album cycle was dead on arrival. We had
spent close to 18 months making and setting up that record. It was crushing to watch everything
we had worked so hard to roll out in just the right way obliterated in an instant.
But creatively, the timing couldn't have been better. Something more positive began to emerge.
With our dense touring schedule shelved, I was able to reflect on past travels and appreciate
them in a new way. But reminders of our fragile mortality were everywhere, punctuated by the

ongoing pandemic and civil unrest. The music began to encompass all of this. It became the
words, encouragement, and occasional cautions that I would want to share with you if this was
the last time we spoke. And with all this time spent looking inward came the realization that
there were still a few chips I was carrying on my shoulder that I needed to let go of. Maybe you
have those too.
One of my first jobs ever was at a car wash. I thought of the band, after years spent on the road
taking a breather. Going through that wash process. Watching all the dirt and mud stripped
away. Coming out the other side refreshed and rejuvenated. Still having experienced everything
from before, but no longer wearing the scars.