Live Nation Presents
Zeppelin USA
Show:

8:00 pm
Doors:

7:00 pm
The Van Buren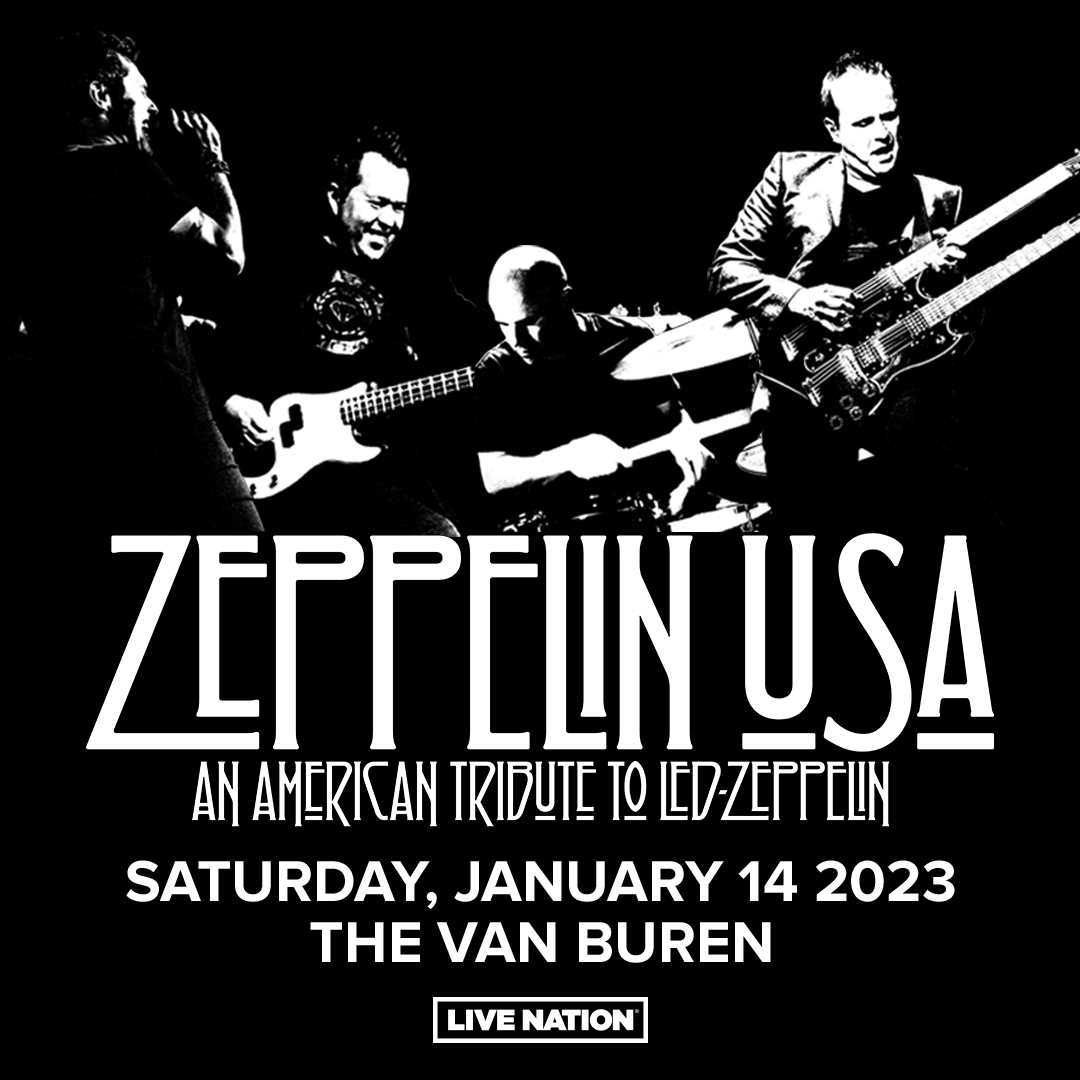 Additional Info
This event is 13+ (Ages 5-12 must be accompanied by a parent/legal guardian. Children 4 and under not admitted.​)​


*CLEAR BAG POLICY*
To reduce staff contact with guest belongings please make sure bags meet the following requirements: we allow clear plastic, vinyl, or PVC bags with a single compartment (NO BACKPACKS) no larger than 12x6x12, and small handbags no larger than 4.5x6.5 (do not need to be clear).

Based on the latest local guidelines, attendees are no longer required to provide proof of negative COVID-19 test AND/OR vaccination for entry into this event. Be sure to check your venue website for the latest updates and guidelines as entry requirements are subject to change.

Artists
Zeppelin USA
The songs remain the same....just a different approach

Zeppelin USA (ZUSA for short) is all about the music and spirit of Led Zeppelin. When the members of ZUSA formed, a clear decision had to be made. We could have easily donned the blonde "Robert Plant" wig, the dragon suit a la Jimmy Page, the 3 rings on the kick drum, etc. as so many other Zep tributes have done. But we knew that in order to set ourselves apart from the pack we had to choose a different path. To stand on the music only, we know we're going to be judged hard in that respect. And so, we focus on getting the right tones, vocal inflections, our mix out front, borrowing a little from the studio versions here, the live versions there...much attention is spent on delivering a true sonic Zep experience.

But we also believe in entertainment. The members of ZUSA are veteran musicians who've performed for tens of thousands of people. This is, after all, show business, and we go out of our way to engage and entertain our audience, no matter the size. Our larger venue shows are complete productions with huge video screens, low fog, lasers, state of the art lighting, and theatrics.

A Zeppelin USA show captures the sound and spirit of the greatest rock band of all time, and promises to either introduce or remind fans of just how great the mighty Zep will always be.